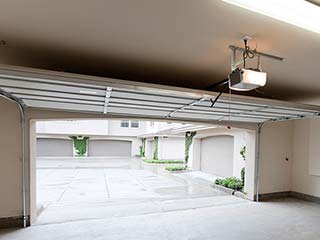 Homeowners with old models of doors for their garage consider automatic garage door replacement since newer models offer advanced features and functionality.Modern doors in the market provide higher level of safety and security valued by consumers since reports of numerous garage-related accidents are not merely speculations but facts. This is why the electric eyes became a standard for garage door openers from 1993.
Safety Options for Doors
• Auto Reverse Function. This is a great feature found on most electronic openers. Through this function, the door automatically reverses if it senses an obstruction. This means you no longer have to worry about the door hitting your pet or your car. The photoelectric eyes are responsible for detecting movement when it closes. This is why it is necessary to align the eyes or to check if it is properly working.
• Pinch-ProofDesign. Some garage doors have a pinch-proof design wherein your fingers will not get pinched if they get in between the panels while the door closes.
• Emergency Pull Cord. This is pulled when a sudden power outage occurs. It separates the opener from the garage door, so the door could be opened. However, this should be out of children's reach.
• Closed Spring Design. Old manual doors make use of torsion springs, but newer units introduce the closed-spring design. This could be adjusted by simply turning the bolt with a ratchet or drill.
• Wireless Coded Keypad. This feature offers greater security for your home since a code is needed before the door opens. Rolling code technology even makes sure that the code will not be repeated since it constantly changes.
As the owner of your garage, you will be the one to decide whether you need a garage door replacement or not. If yours is old and need frequent repair, it is rewarding to invest in a new high quality door that offers convenience and security for everyone in the household.