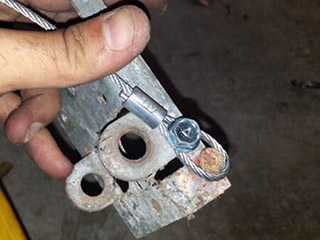 There are common issues that garage door companies attend to for repairs that might be diagnosed simply over the phone. It helps if homeowners are aware of the noise and irregularities that signal trouble. If your door is new, you can benefit from periodic maintenance to prolong its life.
Garage Door Common Issues
• Broken spring. The springs of your door have a certain lifespan and when broken, they could be very dangerous for they are under great tension. Replacement of both extension and torsion springs is performed by most garage door service providers.
• Stuck doors. This can be caused by a few things. If you are using a garage door opener remote, perhaps it needs battery replacement, or the sensors and switches need adjustments. If the door is opened manually, perhaps there are obstructions in the track. Weather conditions may affect the lubricant. Stuck doors could also be caused by uneven springs or cables.
• Broken cables. Broken cables are dangerous for they can result in falling doors. If you notice that your door falls quickly when you lower it, the cables could be the cause. Safety hazards should be observed when working on the springs and cables.
• Opener problems. Garage door opener problems are also common concerns for repair. Usually, realignment of photo eyes are done, as well as replacement of the motor, trolleys, drive belts and other parts.
Today, if any problems arise from your overhead door, there is no need to worry since there are professionals, like ours, who have the right skills and equipments to check the problem and do the necessary garage door repair.
However, as the owner, you must always be careful in handling your door and be attentive if you notice that something is wrong. Noises could be a sign that there is trouble, so if you hear screeching or grinding noises, the system needs attention right away. It pays to invest on garage door maintenance so there is someone who can professionally inspect the entire system.